Reluctant to talk about themselves, I finally found some time in their busy schedules to find out more about the Lois and Raj story and how they came to be at the helm of Maluk Timor.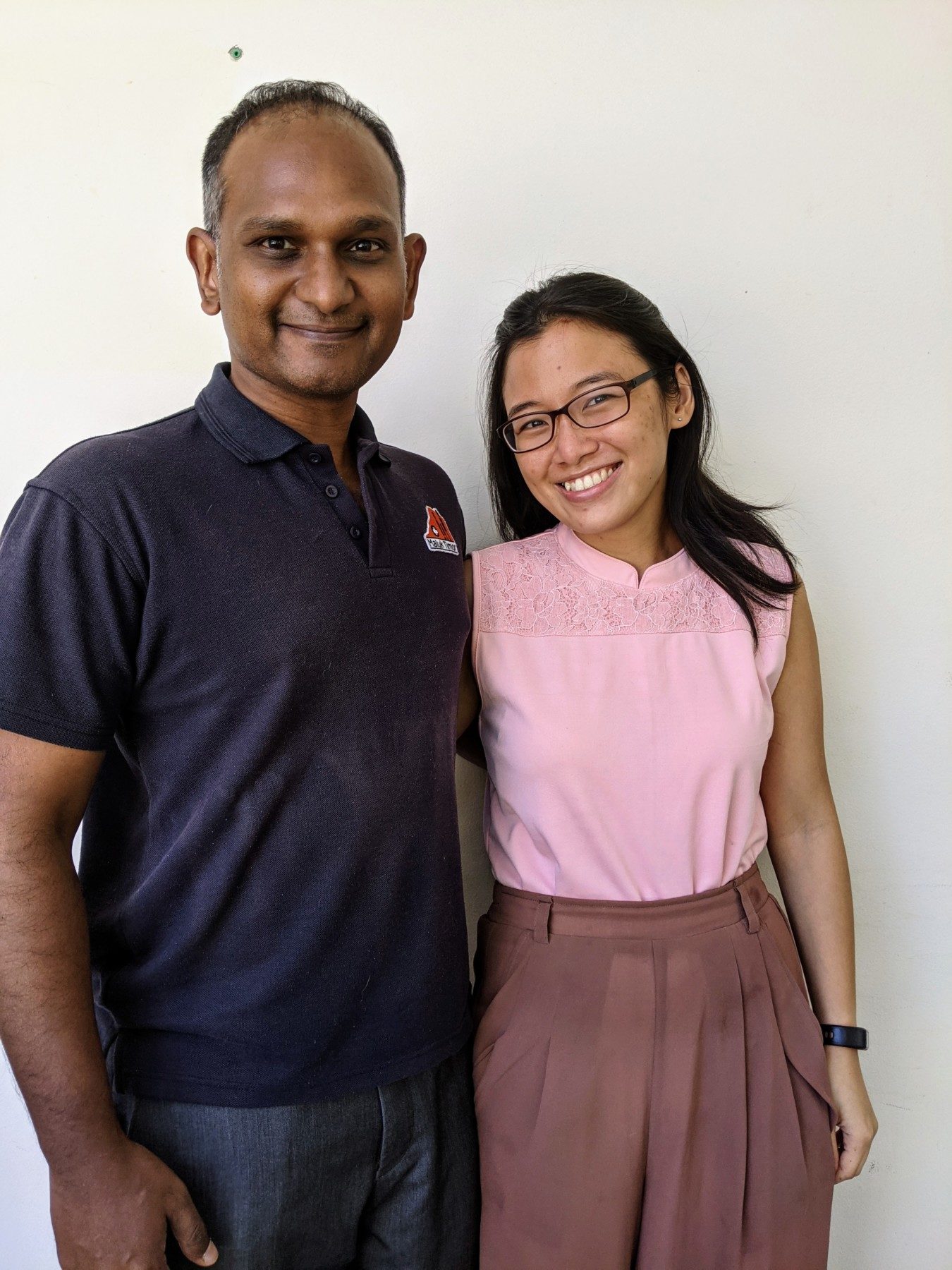 She Said – Lois's Story
While small in stature, Lois exudes energy, warmth and humour. She is everywhere – with laptop in hand, you'll find her perched on a bench, running after someone, organising, laughing; doing 100 things at once. Her life force is infectious; open, honest and fun.
Her Bio concludes "I relax by baking and reading and drinking endless cups of tea."
Born in Singapore, and like most, we lived in an apartment block – the closest I ever got to living close to the ground was the eighth floor. My mother was a teacher and my father an engineer.  They both wanted to be doctors, but had to support their families. So, my brother and I became Doctors – I guess I always knew that's what I would end up being, because it was my parents' dream.
After graduating from medical school in Singapore, I worked as a Government Service Doctor – this means we rotate around the different government hospitals in different disciplines. For example, working for six months in a Hospice or Emergency Department. It was a great way to find out which area you wanted to work in.  I loved it as you were always learning, and it kept you humble. From this, I realized I wanted to be a generalist doctor. I loved the approach of cradle to grave, being there at the beginning and the end. But I also realised I was a bit of a busybody, and with this kind of practice, you really get to know people and find out about them.  To be a General Practitioner/Family Physician it is a further three years' training – but it was a bit longer than normal as I took a break for a year in the middle to work in Sierra Leone with Raj.
I went to a lecture Raj was giving to the Fellowship of Doctors and Dentists where he spoke of the work he had done in Timor-Leste. A few friends had suggested I meet Raj because of our mutual interest in cross-cultural work, global health, and languages. I just walked up to him and introduced myself. We kept in touch and then one day I was in hospital with dengue and Raj was assigned my case. He sent me home keen to borrow some of my books. We loved talk about big concepts, and we were always very intense about the issues we were interested in. A few months later we started dating. A few years after that we got married.
Working Overseas
I had worked in several countries doing short missions with a church group. In Timor-Leste and the Philippines – I was there doing mobile clinics; in China – Medical Interpretation; and then in 2017, we spent a year in Sierra Leone. Raj applied for a job In Sierra Leone for an NGO and I went as the Trailing Spouse. I looked around for places that I could contribute and learn.
I spent the first six months as a Volunteer Physician with The Shepherd's Hospice – doing community palliative care, inpatient & home hospice, and palliative care support for national hospitals. Then I was an intern with Helen Keller International, developing information and education materials as well as researching a One Health Platform.
Working in the Hospice was my first taste of practicing in a culture different to my own. The approach to family, culture, death, pain, and disability – it was so different to my own culture, and very eye-opening. I tried to strengthen the hospice – and getting the doctors and nurses to go to the patient's home – it was a good thing, but the sustainability and resources was a really big issue.
After our year away, I came back to Singapore to finish my commitments with the government and to finish my training in Family Medicine.
We arrived in Timor-Leste in September 2020 and had an eight-month transition into Maluk Timor with Jeremy and Bethany slowly stepping back and Raj and I taking on the next phase of leadership at Maluk Timor.  Bethany showed me the ropes of work and life in Dili. Over those eight months, Bethany gave me hard-won wisdom, skeins of history, and sobering insights about decision-making at the helm. I scooted in beside her at ministry meetings; rode shotgun as she expertly wove through Dili traffic to far-flung (as I thought, at the time!) community health centres across town; and sorted through stacks of paperwork with her. Bethany showed me where one could get a sturdy bicycle in Dili, and how to duck-dive over coral reefs. We are quite different in our personalities and work styles, but remarkably similar in our vision for what we hope Maluk Timor will become both in itself, and for the wider health system. Raj and I had very mixed feelings as we sent the Becketts to Comoro Airport in May 2021. (They left us, among other things, two of our most prized possessions here: their wedding crockpot and Isabel the cat.)
What do you love about MT and Timor-Leste?
The amount of potential in people is what I really love: in Maluk Timor, people I meet, doctors, nurses, frontline workers, volunteers – they are the heroes to me. How much does it take to keep coming to work, when there are so many limitations: that's dedication! People with very little – always share – it's just incredible.  That's the heart of it to me. Everyone can say how many apples are on a tree, but no one knows how many trees come from an apple…
He Said – Raj's Story
There is a strength and confidence in Raj when you meet him. He knows what he wants, when limitations are holding him back and then seeks a solution; he knows there is a pathway to get there – but isn't fixed and rigid in getting there.  He seems very serious and sincere but then has you all laughing – he likes to inspire and wants you to learn and build on your skills.
His bio concludes "Raj enjoys reading and computer games. Raj loves cats. And motorcycles. (But not cats on motorcycles.)"
My mum and dad are from Indian and were working in Malaysia when I was born. We lived there until I was seven, then moved to Brunei as dad was a university lecturer. I went to school there but later I moved back to Malaysia to do pre-university and then India to do the same.
I went to Medical School in Singapore 2000-2005. Once I graduated, I worked in government hospitals as non-specialist medical officer.
In 2007-2008 I was a village doctor in Liquisa District. While it was a great experience, I was frustrated that my medical training hadn't equipped me for this type of work. My training taught me to be a doctor in a highly resourced medical system, not working in a rural clinic! This precipitated me to do public health.
In 2012 I did a Master's in Public Health. I subsequently did a Postgraduate Diploma in Intercultural Studies and then a Postgraduate Certificate in Health Professions Education. At present I am studying Health informatics (application of computers and technology in managing health systems).
Each of these decisions for further study was driven by frustration about my lack of capacity in a specific area that was important for the work I was engaged in.
Working Overseas
While based in Singapore, I have had the opportunity to experience different types of "global health" work in developing countries:
2005-2007 – Short-Term Medical Missions – like running small mobile clinics in underserved areas
2007-2012 – Community Health Development – training village volunteers in promoting healthy behaviours and preventing disease.
2012 – 2016 Training Healthcare Professionals – partnering with government health facilities to improve the skills of doctors and nurses, especially in emergency medicine.
I've worked with a range of partners: churches, NGOs like Care Channels International and RACS (Royal Australasian College of Surgeons), local and national governments.
In 2017-2018, I worked with King's Sierra Leone Partnership, an NGO that supported the government of Sierra Leone's reconstruction of the health system after the 2014-2016 Ebola epidemic.
How Lois and I met…
Lois and I met in 2014 in Singapore, when I was giving a talk to the Christian Medical and Dental Fellowship about health development work in in Timor-Leste. Some months later, Lois attended the emergency department with dengue fever. The doctor who saw her was me. I followed up very closely. In 2016 we got married.
We were both certain from the beginning of our courtship that we wanted to spend a significant period doing health development work in an underserved part of the world. We spent a year in Sierra Leone in 2017, before coming to Timor in 2020.
How was the experience in Sierra Leone?
It was rewarding and frustrating at the same time.
It was rewarding because the work was meaningful, and I was inspired by the commitment of the Sierra Leonean healthcare professionals in the front lines. Many had chosen to put themselves at risk to provide care for Ebola patients, some had contracted it themselves, and had almost died. But when they recovered, they went straight back to their hospitals!
It was frustrating because there were many dysfunctions to work around: limited resources, political conflicts, cross-cultural tensions.
How did you come to Maluk Timor?
A mutual friend introduced me to Jeremy in 2016, just as he was moving to Timor-Leste. It seemed to me that we shared a similar vision for Timor's health system. We remained in touch and I kept an eye on how the organization journeyed to its current form. In 2019, as Lois and I began exploring a long-term move, we knew we would be proud to be part of Maluk Timor. We arrived in September 2020, and formally took over from Jeremy and Bethany in April 2021.
I'm really glad we got to have such a long handover period. It gave me lots of time to get to know people and our work.
I think the transition from Jeremy to me has come at the same time as a transition in Maluk Timor's focus. The last few years have been a phase of "growth", where we were establishing ourselves as a new organization, finding our niche, and pioneering multiple programs. Especially during Covid, we have made our mark and been recognized as a leading health sector NGO in Timor. But now, we are in a season of shifting from "growth" to "consolidation": ensuring we get our internal systems sorted out so that we can continue do great work reliably.