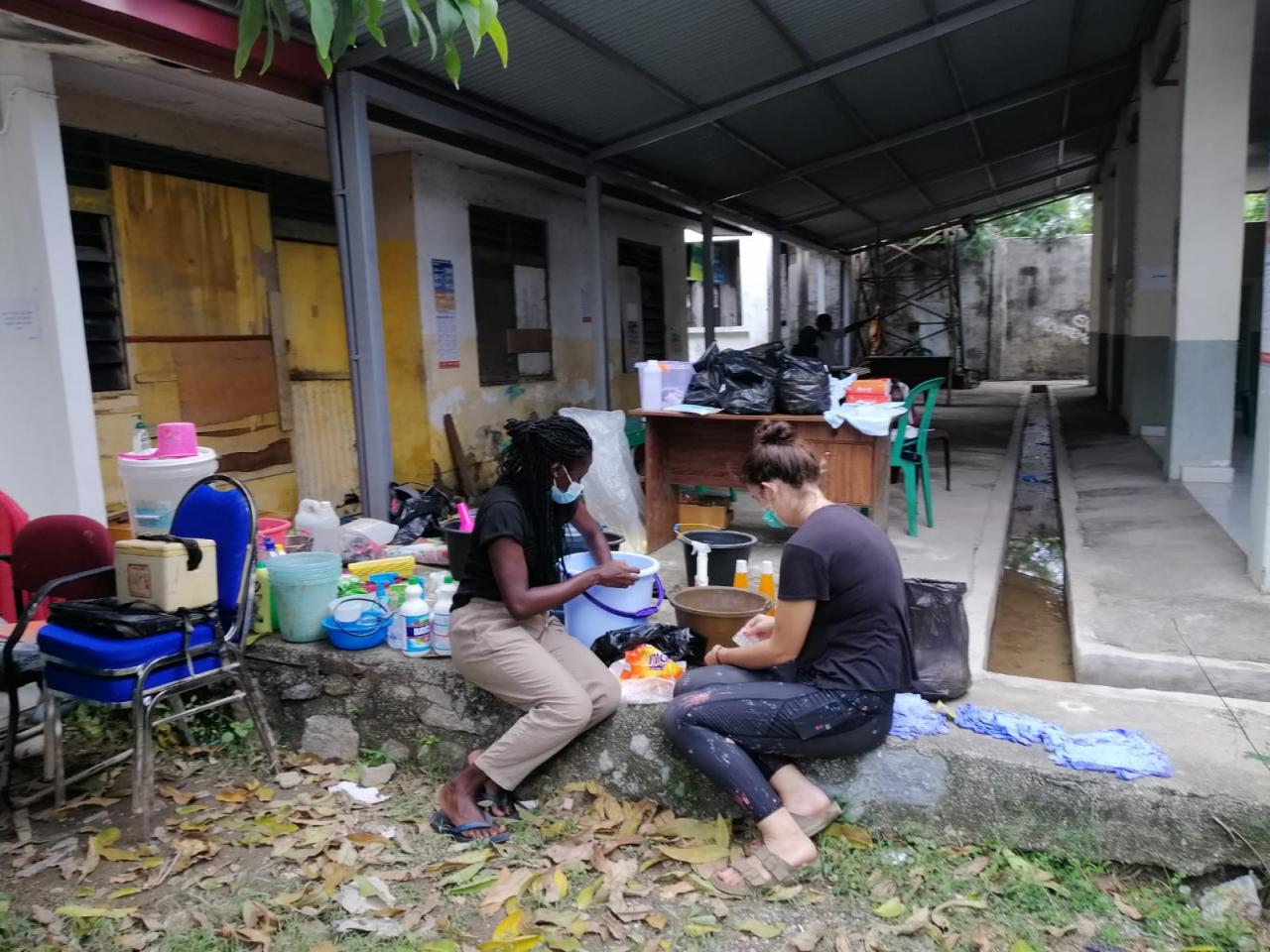 "It's not that bad, others are much worse."
All week we've been reaching out to our staff and mostly hearing reassurances that their houses are not too badly affected.
Imagine our surprise when one of their friends then sends us a photo of the scene out of concern for their welfare: knee-high water levels, submerged bedding, and a thick layer of mud throughout the house.
I guess the truth is that everyone knows someone who is worse off, and no one wants to divert assistance away from those who may need it more.
The Timorese people are all too accustomed to putting things back together after a crisis. They get about their work with a minimum of fuss and no apparent sense of self-pity. Communities pull together to shovel mud away from each other's homes, and to repair what they can in case the rains soon return. Thankfully we've had some sunny days: perhaps the wet season is almost over?
At our house a number of our pets have died in the aftermath of the flood: several quails and rabbits so far. It's an unnerving reminder of what comes after the flood: from a health standpoint this might be the most dangerous time. Thousands are still huddled in evacuation centres, many of them young children from the poorest neighbourhoods of Dili.
Their homes have been destroyed and there's no knowing how long they'll be there. Undernourished children, poor sanitation and overcrowding: it's a dangerous situation and we're working with local health authorities and other health partners to see what we can do to provide some medical cover and improve the conditions.
Aside from dengue and diarrhoeal disease, COVID-19 remains a looming threat. 98 new cases have been identified in the last two days, including new clusters in districts previously unaffected. We're hearing that there is a reluctance among those currently in the evacuation centres to admit to flu-like symptoms: they don't want to be tested because that could mean being taken to an isolation centre, and potential separation from family.

We hope to do more to address this, but our COVID Team is already stretched thinly. They're travelling all over the country delivering essential training on the COVID-19 vaccine, the first doses of which were administered this week to national leaders and the first of the frontline health staff.

There is a race on now between a virus and a vaccine: which one will cover this country first? We may soon need our team back here in Dili to bolster defences against whatever comes next.
This is a time when situational trauma can re-open old psychological scars, and there is no shortage of those in Timor-Leste. Our Psychological First Aid team is reaching out to local networks of Timorese psychologists and social workers to see how we can best support their efforts in meeting the needs of those in crisis.
It's very moving to see so many people contributing: the Timorese themselves leading the way, with local support from international partners and agencies, and with so much generosity from abroad.
From our vantage point here – with more than forty lives lost and reportedly $100 million dollars worth of damage – it can be hard to know where to begin.
We are moving as fast as we can and many of our staff are exhausted from trying to help others while they don't have a dry bed to sleep in themselves.
We're working with our staff to ensure that their homes are secure, while reaching out to the many in need around us in the community.